Intercom System Installation Services Toronto by UTS Group
UTS Group installs intercom access control system in the Greater Toronto Area (GTA). Our inventory consists of modern solutions which can be personalized according to the specific needs of any organization. Incorporated with state-of-art technology, our products include a range of intercom systems from simple audio-only intercom systems to more complex IP video intercom systems to meet the different commercial needs.
Door entry intercom systems can allow you to see, hear and speak to visitors before they enter your commercial premises. These intercom systems can connect two or more points using switches to convey messages within a building. With one push of a button, you can place one on one call or group call to convey the message conveniently. Our intercom systems provide a functional and effective way of screening all the visitors to your business and mitigate the potential risk associated with the opening the doors to unwanted visitors. Our extensive range of products and design options will help you achieve your security goals.
We Install a Variety of Intercom System
Hardwired intercom System
Wireless Intercom System
Automatic entry Intercom System
IP Video Intercom System
Building Intercom System
commercial intercom entry system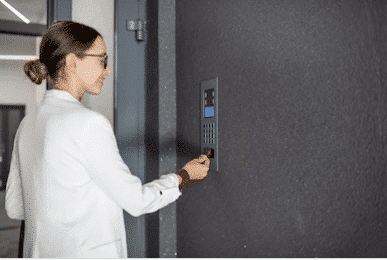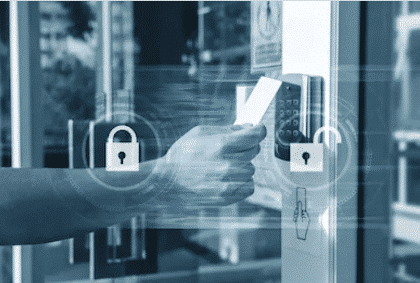 Features of Intercom Systems
Secure remote access
Security alert in case of illegal entry
Voice recording
Tracking blank calls
Integrated registration system
Automatic playback of voice messages to welcome visitors
Perfect communication despite background noise
How does the Intercom System Benefit Your Organization?
Improved Communication system
Intercom systems are used to communicate with the visitors. Moreover, you don't need to keep a receptionist for your business as an IP video intercom system works for you to identify the visitor and their reason for visiting your commercial premises.
Video intercom systems also provide a better security system. Before opening the door, we know who is outside, and moreover, we can communicate with that person about the reason for his visiting. So, building intercom systems improve the security of your business.
Some of our building intercom systems have a memory function; you can easily find out who had attempted to press the doorbell when you were not in the office. It also helps to maintain the record how many people have entered or exit the commercial premises.
If a visitor needs to meet someone, in particular, the call can be re-routed to that person. IP video intercom systems can also be automated so that if someone does not pick up the call in a certain amount of time, it will automatically be switched down or re-routed to someone else.
Internal wireless intercom systems secure your business more effectively. You can get a quick call about any potential security issues if someone is monitoring your cameras remotely. You can also use them to communicate with your employees in such situations for extra security.
Control Access to Certain Areas
You can allow or deny access through commercial intercom entry systems. Only authorized employees can get into the specific areas. When someone else needs to enter a particular area, they request permission via the intercom. They can be used to restrict access to your business.
Hire UTS Group for Intercom Systems Installation in Toronto!
UTS Group offers the extensive range of intercom access control systems in the Greater Toronto Area (GTA), Canada. We have a reputation of providing the comprehensive intercom solutions for the security of your business. We have a stock of commercial intercom entry systems like carrier-current intercom system, hardwired intercom system, wireless intercom system and automatic entry intercom system. Whether you have a single storey facility or a multiple storey complex, our expert technicians can help you to figure out the right intercom system for your business. You can pick and choose to implement any audio/video intercom as per your business requirement.
We can assist you more about how you can integrate an intercom system in your building to enhance your productivity and feel safe and secure at the same time. Please contact us for more information regarding intercom systems installation services in Toronto.