We provide all the necessary resources for the best locksmith services for your business or residential buildings. We have a range of products and services, provide by highly-qualified technicians to help you with your locksmith needs.
Authorized Locksmith Services
From the first contact, our team of experts understands the need for our clients to present the best project. We adapt to the reality of our clients and present integrated security projects. After the first contact, we visit the site and present a partnership proposal. In addition to the installation, we also carry out maintenance and repairs. We are ready to serve you 24/7.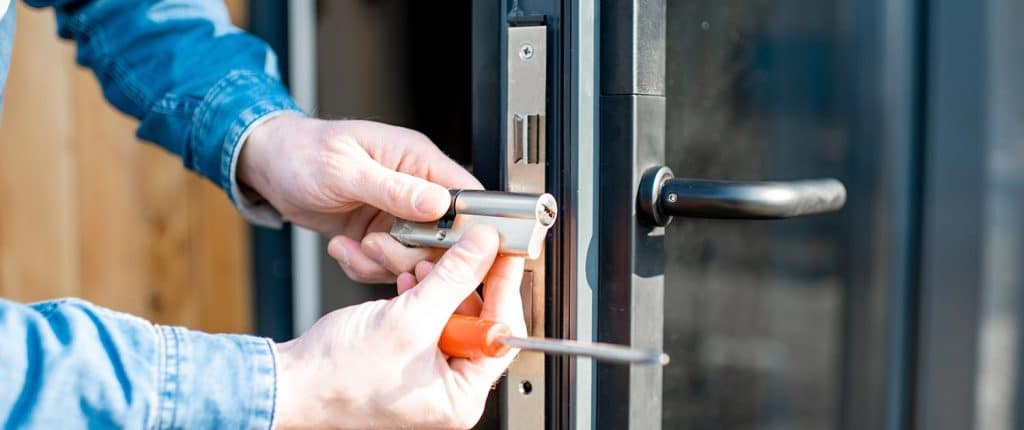 Door lock problems are very common, it can be an old lock stuck, or a key broke inside the lock or simply a malfunctioning lock. We offer lock changes and a switch to our superior quality products installed by qualified technicians.
Rekeying your locks gives your premises a renewed security boost. Re-key is a solution which allows you to retain the same old lock or hardware but has a new key.

Master key is a key that can open all the locks within a particular premise. Master keys work on components within the lock mechanism called Master wafers or spacers.
An electric strike is an access control device used for door frames. It replaces the fixed strike faceplate, or dead bolt. Like a fixed strike plate, it normally presents a ramped or beveled surface to the locking latch allowing the door to close and latch just like a fixed strike would, but is connected to the automatic door mechanism.

An electromagnetic lock, magnetic lock, or maglock is a locking device that consists of an electromagnet and an armature plate. Magnetic locks require the proper power supply to keep it working and are always attached with an electronic access device.
A smart lock is an electromechanical lock which locks or unlocks a door when it receives such instructions from an authorized device using a wireless protocol and a cryptographic key to execute the authorization process.
Other Industries We Serve
Sectors that need advanced integrated and automated security solutions. A stepping stone to keeping Canadian business and commercial properties more secured and protecting against unseen damages and threats.
Top Locksmith Service in Ontario, British Columbia, Alberta & Quebec


Professional Team of Expertise

We guarantee satisfaction – Over 10k happy clients

Installations and Maintenance across all Industries. 

 

Highly Customizable