What is an access control system?
An access control system is a keyless door entry system that gives you total control over your commercial or residential premises by granting physical access to authorized users only.
It is an essential part of any security solution.
You can customize this system to fit your specific requirements and easily integrate it with other door access systems such as visitors' management systems or alarm systems.
contact an expert to know more & have an offer tailored for you.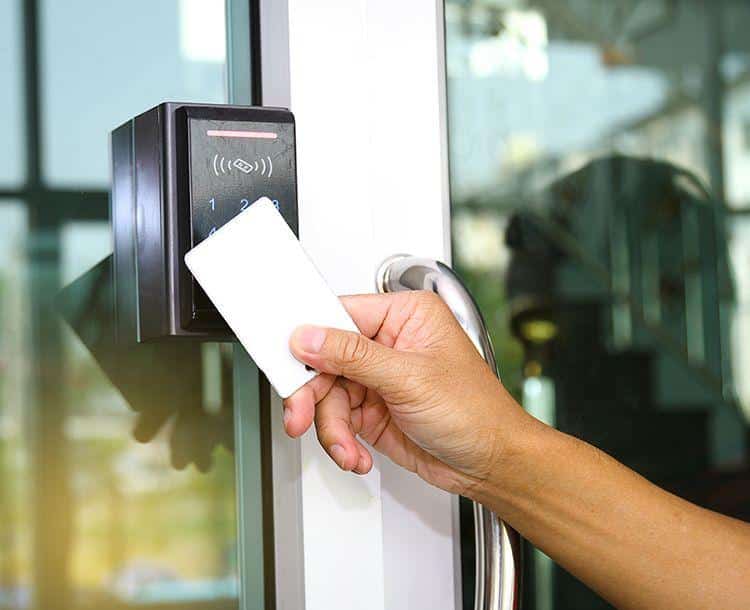 Types of access control systems
The system comes in two main types: standalone or PC-controlled.
The standalone system is a simple one. It is ideal for low security, independent doors.
A PC-controlled system, on the other hand, is more complex and allows for centralized control over the premises.
PC-controlled systems can be either offline or networked, which means that they can be managed through an installed software or they can be cloud-based.
Also, PC-controlled systems come in three varieties: role-based access control (RBAC), discretionary access control (DAC), and mandatory access control (MAC).
Select From The Wide Range Of Commercial Access Systems
We deal in the following access control systems, you can choose from what suits best for your company.
You can choose the authentication tool that best fits your needs depending on the security level you are aiming for. It is also possible to establish a two-steps identification process such as PIN code + Biometric scan.
These tools are:
Encrypted RFID tags (fobs, proximity cards, and magnetic / swipe cards)
Smart cards
PIN codes
Biometrics (fingerprint, iris, face, vein patterns…)
Smartphone apps (access enabled through the smartphone's Bluetooth Low Energy (BLE) and Near-Field Technology (NFC))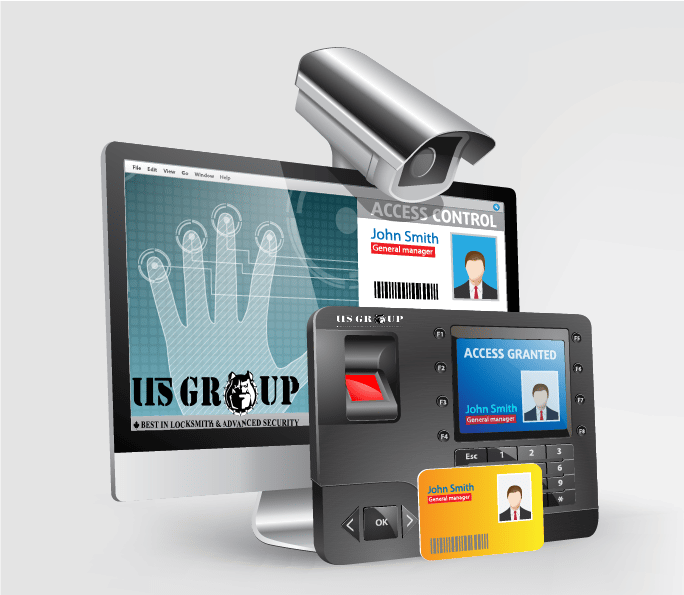 How does the system work?
A basic door access control system requires four components:
An authentication device (keypad, scanner, smartphone) or an authentication object (fob, card)
A reader
A controller
Electric locks
This is how the system secures:
The user authenticates their identity to the reader through a designated authentication tool
The reader communicates that information to the controller
The controller instructs the door to unlock electronically
Which Access Control System is Required For Your Commercial Entryway?
If you have made up your mind to get secure access control system, then it's time to tell you which building access control system work for you. Let's dig out the list of access control security system and find out how they differentiate from each other:
Why purchase an access control system?
Access Control System Installation
We sell, install, repair and maintain Access Control System all across Ontario. We have an inclusive price and warranty is included. Whether you need for a Small Office, Large Building, Hospital, or House. We have the largest rfid access control options in Ontario, British Columbia, Quebec.
We are an advanced security company with more than a decade of proven quality services and unique technology solutions.
All of our products are guaranteed for at least a year. Some products have a lifetime guarantee!
At UTS Group, you are purchasing a whole service, not just a product. We provide full concept to implementation training and 24/7 after-sales support.
We supply, install, and maintain everything related to automatic doors, access control, security cameras, intercom, locksmith, and more.
We offer you high-end products and professional service at competitive prices.
Industries we serve Automated Security
Every industry is unique and special in its requirement for security and safety systems. Secure and enhance your business with a comprehensive, integrated automated security system. Here are the industries we serve to.