UTS Group is known for providing reliable installation and maintenance services with the motive of customer satisfaction. Our team is experienced in installing the modern turnstiles in various commercial buildings. Security Turnstiles are one of the most commonly used physical access restriction equipment. They are an effective way to restrict access and also maintain records as well. They can be controlled remotely to manage access timing and volume as well.Modern versions of the turnstiles offer a complete range of the benefits to the users and the owners.
With Canada being one of the largest manufacturers of the turnstiles, we offer all the types with various designs to provide an extensive service in order to satisfy all our customer requirements in Canada. Security turnstiles are incorporated with many safety and security features and due to its extended durability with little maintenance required, it allows an easy access to millions of people passing through.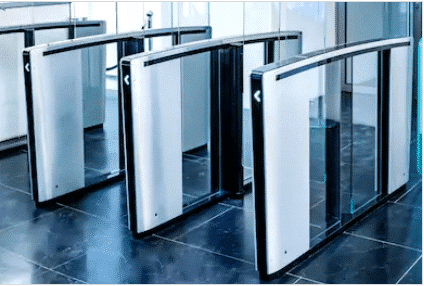 THERE ARE MANY DIFFERENT TYPES OF TURNSTILES THAT CAN BE INSTALLED AND VARY WITH THE PARTICULAR REQUIREMENTS OF THE BUSINESS
Using Card access systems

It is a type of barrier system, which works effectively to control access to specific areas with the use of an effective magnetic swap card. The computer system scans the details of the card and opened up to let the single person pass through. Then the barrier closes automatically and waits for the next pass card. The merit of this technique is that the card needs not to be in physical contact with the card reader. The user just needs to hold it at 100 mm distance and the card reader will serve your purpose.
This access system is more reliable and easy to use.
In many cases, card transfer is not a significant concern as sometimes there are personnel observing the entry and cards may get lost.
Biometric barriers
This type of technology takes the measures of security to next level. Biometric systems are used to grant access to high security and high-risk facilities, which are fitted with the latest programmable panel.
Authorizing the person, Not the Card
A Biometric scan with IP-networked technology allows live security personnel to authorize each visitor. This system compares a saved file photograph with an image of the persons entering the gate systems and allows human evaluation of each entry from a central location. This technique is beneficial as it can avoid scams, distraction, and misinformation.
Choose the right turnstiles for your organization
Waist-high turnstiles are frequently used in the public access locations such as theme parks, stadiums, and fairs, where there is a need to manage the large crowd of people. Waist-high security turnstiles are made up of a barrier arm installed at waist-high. The user inserts the ticket or pass, from which a barcode is to read. And if access is to be granted, the installed sensor sets the electric motor to turn the turnstile which let the user pass. This type of turnstile is highly durable and economical.
Optical
In Canada, optical turnstiles are increasingly used in places, where a physical barrier is deemed unnecessary or unaesthetic. Optical turnstiles make use of sensors to detect or track a person through the turnstile and can be used with or without barriers.
Optical turnstiles provide bi-directional access control and give a pleasing appearance if installed accurately at places like corporate lobbies, multi-tenant buildings, recreation centers and health clubs.
Full-height
The Full-height turnstile is a larger version among all security turnstiles. Made up of rotating barriers can extend from the floor to the top of the turnstile to offer maximum security. This type of turnstiles is best suited for places, which demand high-level of security. With the average cost, this type is commonly used in military bases, distribution warehouses, nuclear and manufacturing facilities.
It totally depends on the specific location for which you want to install turnstile. Our team of experts in Canada will help you in choosing the right turnstile according to your desired level of security, features, and budget.