Automatic Swing Door Installation
We supply, install, and repair Automatic Swing Doors all over Ontario, Canada. When our clients interact with us, they always have a lot of queries and rightfully so. One of the most common one is – "Which automatic door system suits my business the best?" While addressing such a query we consider the following factors very important, like the type of commercial property (restaurant, office, and shops), the space that is available to install the doors, the budget of the client, and availability of power supply. One door type that fits almost all the situations with small modifications is the automatic swing door system. We are an advanced security company with more than a decade of experience in providing proven quality services and unique technology solutions.
what is an automatic swing door?
An automatic swing door opens by oscillating either clockwise or anticlockwise with the help of its operator device. It then closes mechanically to its original position allowing for a hassle-free pedestrian access. The basic system is very simple; it is only composed of an operator and a sliding arm.
types of automatic swing doors
Automatic swing doors differ by the level of power supply their operator needs and by the type of their activation device.
Power supply levels:
Full energy operator
Low energy operator
Power assist operator
Call Us Now +1 888-205-4036 - your partner 24/7
The mission of UTS Group is to provide one stop solution for all your advanced security needs. From installation, maintenance and repairs, count on the integrated security service for the best control of commercial or residential access.
As the name suggests the low energy door consumes lesser energy, they are not fully automatic and do not have safety sensors. The slow movement of these doors minimize the chances of an accident due to sudden movement. The slow hold upon time of the doors is perfect for the places like hospitals to allow the physically- disabled people to walk through the doors comfortably. These doors can also be employed at locations with less traffic.
FULLY AUTOMATIC SWING DOOR
The fully automatic doors are best suited for locations with high traffic and that requires the doors to work at swift pace. The fully automatic doors have security sensors to scan the area in front of them and prevent an accident. The doors open and close at a swift pace and are normally deployed at places with high traffic. This reduces the waiting time and the people are able to pass by comfortably.
POWER ASSIST SWING DOOR OPERATOR
Power Assist Door is an automatic door with a power mechanism that activates by pushing or pulling the door. It reduces the opening or closing resistance of a door to allow easier manual opening of the door. If the opening force on the door is released, the door shall come to a stop and either immediately begin to close, or begin to close after a predetermined time.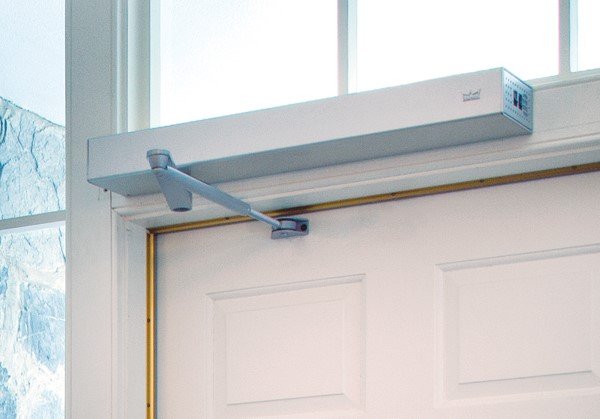 It is important to note that while a full energy operator opens the swing door at full speed, a low energy operator is deemed safer especially for disabled individuals due to its reduced opening speed.
Some activation methods are completely automatic while others require some human assistance. Activation methods:
Sensor Automatically activated when a user is in the door vicinity
Push button Activated by pushing a button to initiate the door opener
Push and go Activated by slightly nudging the door
Access control Activated with cards, fobs, pin codes or biometrics in order to allow authorized users only
advantages of automatic swing doors
Whether for residential or commercial use, automatic swing doors offer many advantages. Their basic system is simple yet it can be upgraded to offer maximum security solutions.
Convenient especially for users with limited abilities
Suitable for high traffic areas (full energy operator)
Suitable for low traffic areas (low energy operator)
Safe and secure
Low maintenance
Energy savers
Budget friendly
Suitable for limited spaces (one panel door)
Suitable for large spaces (two panels door)
The video features the products & services that UTS Group offers
UTS Group is the leading Canadian provider of advanced intelligent security systems serving Ontario. We have over 15 years of experience specializing in the selling, installing and servicing of Access Control Systems, Locksmith Services, Intercom, Systems Security Cameras and Automatic Door Systems. Not just this, we integrate all our services together in your premise. We offer our clients an effective solution designed to meet their unique needs and varying needs. Our emergency services are available 24X7 Your safety and security is our mission.