Access Control Systems Installation Service
What happens if an unauthorized access or damage takes place in your commercial premises? I guess this is something very horrible. To keep your assets safe, you should block the access of unwanted people.
Most of the buildings have a trespasser alarm system for security purposes but they only work when someone exits the building. Opting access control system provides security 24 hours a day.
UTS Group in Ontario, Canada delivers the preeminent access control system services for the secure access to a building.
Access control system is one of the best solutions to prevent unauthorized visitors.
In addition to this, you can restrict some employees to enter the sensitive areas. With an access control system, you can easily keep a record who entered the premises at the particular time.
Instead of providing the keys for each of the employees, you can choose an access control system. The bonus point is that you don't need to find the keys for accessing the building.
Which Access control system will Required for your Entryway?
If you have made up your mind to get access control system, then it's time to tell you which building access control system work for you. Let's dig out the list of access control system and find out how they differentiate from each other:
Intercom Access Control System
Intercom access control system provides the highest level of security for a commercial building or a house.
Pressing one button allows the visitor to communicate with the person through audio or visual calls who is inside. Using this system, you can talk to the visitors from any place of your home or building.
If you want to see who is at your door, and then you decide to open the door. Door access control systems are what UTS Group has designed for you.
Door access control system includes audio or visual calls, code, card or token or digital door entry systems. It also adds biometric, wired and wireless access system.
Card Access Control system
Card access control system is an unbeatable system as it allows you to manage and restrict the entry. For the regular access of any person in the building or home, a card is issued. This is very convenient to use and an unmatched security system.
Fob access control system is highly required in the certain rooms such as lobby, fitness room etc. They can easily be fit in a keychain. In Ontario, most of the people use the fob system.
Badge management includes the creation of card layout, programming and printing.
Now it's time to take a decision. The decision is purely yours. Find out which access control system will suit you more. Make a smart choice and keep the entrance secure.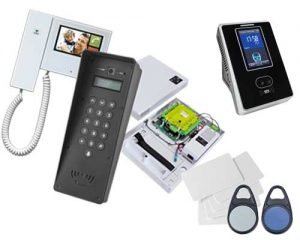 Call Us Now +1 888-205-4036 - your partner 24/7
The mission of UTS Group is to provide one stop solution for all your advanced security needs. From installation, maintenance and repairs, count on the integrated security service for the best control of commercial or residential access.
What benefits Access control system holds for your doors?
Installing building control systems can assure you that only the authorized person gets in. Moreover Building access control system serves many other purposes. Let's find them out :
Provide a safe environment for employees, visitors, and clients.
Keep a record when the user gets in and goes out.
Control access to highly sensitive areas.
If you have lost the card, fob or code, you can block them and issue the different one.
Provides the convenience for the users.
You can monitor it from the remote area.
access control systems
If you are not sure whether access control systems are secure or not, then you may call us for the further queries.
We will be happy to know your current situation and the requirements you are struggling for. We will give you the best suggestions for your needs.
UTS Group is the leading Canadian provider of advanced intelligent security systems serving Ontario. We have over 15 years of experience specializing in the selling, installing and servicing of Access Control Systems, Locksmith Services, Intercom, Systems Security Cameras and Automatic Door Systems. Not just this, we integrate all our services together in your premise. We offer our clients an effective solution designed to meet their unique needs and varying needs. Our emergency services are available 24X7 Your safety and security is our mission.