Leading Advanced Security Systems In Kawartha Lakes, Ontario
Do you need to install and implement security at your residential or commercial property in Kawartha Lakes, Ontario? Consider installing the highly advanced and integrated security systems from one of the leading security solutions in Kawartha Lakes from UTS Group.
Unique Technology Solutions Now Offers Integrated And Advanced Business, Commercial And Multi Residential Security Systems In Kawartha Lakes, Ontario.
At UTS Group, we have the expertise, experience, and technology to provide you with the best security solutions based on your unique needs. We serve satisfied customers across Ontario, including Bobcaygeon, Dunsford, Downeyville, Coboconk, Kinmount, Rosedale, Cameron, Dalrymple. One of the security solutions companies in Ontario, we have now expanded to provide top-notch security systems in British Columbia and Quebec and so you can keep your property safe and secured.
UTS Group provides security solution that uniquely handles installation, maintenance, supply, integration, and customization. We specialize in major security system solutions with advance technology across Ontario. 
Unique And Advanced Security Systems In Kawartha Lakes, Ontario
At Unique Technology Solutions, we understand the importance of keeping your industries, business, condominiums, and apartments safe and secure. With our advanced, professional security systems in Kawartha Lakes, you can keep your property well protected from any potential danger.
We supply and install cutting-edge residential and commercial security systems as well as surveillance systems. We also offer locksmith, Automatic doors, IT and networking in Kawartha Lakes to keep your area secure. Keep an eye on who is authorized and denied access to the property; the priority is to be safe from unknown dangers!
Why UTS Group for your Security Systems Solutions?
We offer a wide range of security solutions – you can choose from the latest monitoring system including  commercial Hollow metal doors, Aluminum doors, Key fob, IT & Cabling, Access Control Systems, Automatic Doors, Locksmith, Turnstiles, Security Films, CCTV/security cameras and safes and vaults, Intercoms, fire rated doors and other security systems. We have a team of highly trained security consultants, who will personally meet you, assess your needs and provide a personalized security solution designed for your specific budget and need.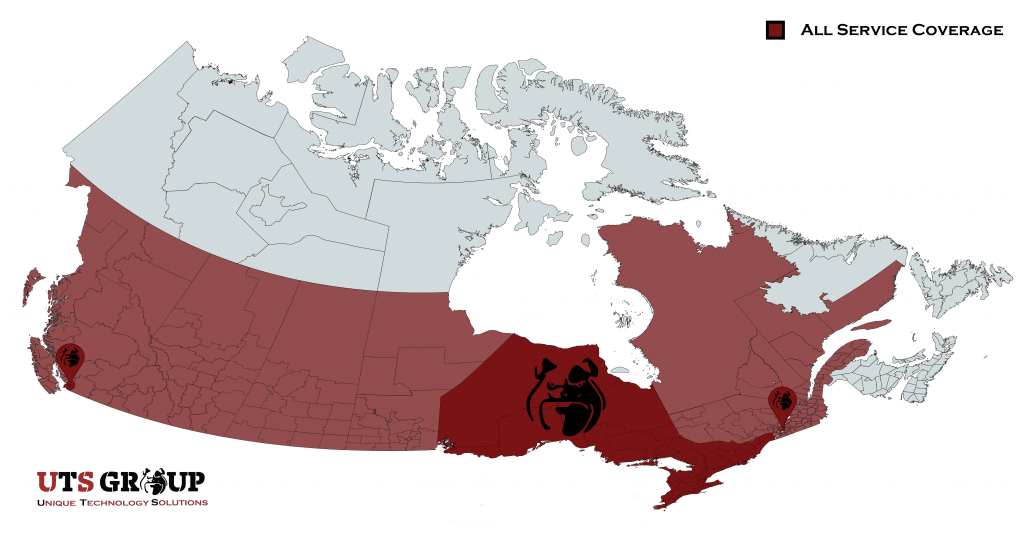 UTS Group is unique for its security consultation, installations, and design services in various locations. Now one of the top all inclusive security services in Kawartha Lakes in Ontario. We take pride in being available with our services in eastern Ontario including Bobcaygeon, Dunsford, Downeyville, Coboconk, Kinmount, Rosedale, Cameron, Dalrymple. Property owners in this area can now breathe easy knowing that they have a highly advanced security systems, access control systems, automatic doors, key fob, intercoms, surveillance cameras and much more to keep their properties safe and secure.
We have a group of highly skilled security experts who specialize in installation and maintaining the security systems of all types. We take pride in giving consultation by understanding company needs and offer a customized security solution created for your unique requirements and budget.
Our professional technicians ensure the process of installation of security systems simple and secure. 
Customize security systems solutions based on the architectural layout of a project.
We evaluate company needs and offer a tailored security solution created for all industries.
Get your security system's equipment and accessories supplied as per requirement.
Why Are We Recommended As Best Security Company By Our Clients​
Unique Technology Solutions provides one on one assistance, quality products, seamless service, training of your staff and post-sale services. Our goal is to introduce our clients with unique, out of the box security solutions.
Keeping clients into consideration, our services revolve around installing, supplying, giving warrantees, giving consultations, maintenance, tech support and many more. Let us know your need and we shall ensure the best for you!
Industries we serve Automated Security
Every industry is unique and special in its requirement for security and safety systems. Secure and enhance your business with a comprehensive, integrated automated security system. Here are the industries we serve to.

We Are the Best security systems Company across Ontario, Quebec and British Columbia.
Our goal is to make sure that you have high-quality protection for your commercial, residential, and business no matter which part of Canada you are in.