Handicap Push Button Door Openers Installation Service in Ontario
UTS Group offers push-button door openers installation and repair services in a variety of combinations in the Greater Toronto Area( GTA), Canada. Push Button door opener provides ease and comfort to the disabled, the elderly and the children. This is also very convenient for those who have an infant in the arms or have their hands full with bags. This is the best solution to avoid opening the heavy manual doors.
AODA Act 2005 aims to identify, remove and prevent barriers for people with disabilities. This is applied to all levels of government, nonprofits and private sector businesses in Ontario.
These systems can be installed in commercial, industrial or residential building. In this way, handicap door openers also contribute to providing barrier-free accessibility to the disabled people. Anyone having limited mobility does not need to struggle to open the doors. The door opens automatically just by pushing the button. Let's take a look at the main features of push button door openers.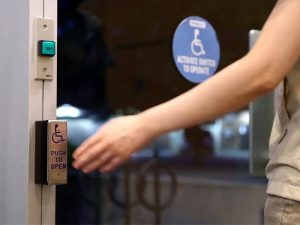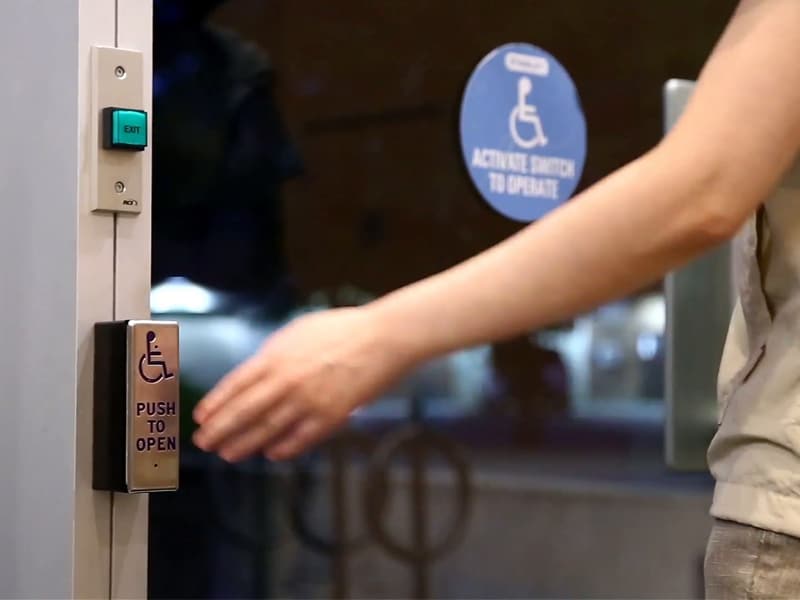 Main Features of Handicap Push Button Door openers
Surface mounting, Quiet and aesthetically pleasing
Operators can be integrated with security systems, card readers, etc.
Reversing and obstruction sensing
Efficient and cost-effective
Manual operation in case of power failure, Easily adjustable opening & closing speeds
Provide barrier-free access
Comply with safety standards
Durable for high traffic areas
Advantages of using our Push Button Door Openers in Your Building
You may not realize it but installing handicap push-button door openers have many benefits. These systems offer the convenience for all. Moreover, this improves the overall perception of your business. Let's dig out the benefits of using push button door openers in your building.
Automatic handicap door opener lowers the safety risks as it gives you complete control. Push button door openers have safety sensors that it reverses if it comes into contact with anyone. So that lessens the chance of hitting someone accidentally.
Handicap door buttons are mainly designed for the disabled, the elderly and the children. This is very simple to use as it needs only to push the button to operate it. This solves the problem of opening a heavy door manually.
Handicap push button door openers save energy in many ways as the door opens only when someone pushes the button. This lowers the possibility of the door being left open. Doors are completely shut every time.
AODA act mandates your business to install handicap dooropener commercial to achieve AODA compliance. This is to provide the hassle-free accessibility to the disabled. Handicap door openers for the disabled provide safe and secure access.
Flexibility during Installation
Many people think that the installation process of push door openers is arduous and it takes a lot of time. However, we have the skilled professionals who have many years of experience doing so. Rest assured as they are very easy to install and maintain.
Improved Perception among Customers
Apart from the convenience, safety and energy saving, using such handicap door openers commercial show that you care for the needs of your customers. It creates a better image for your business among your customers.