RESIDENTIAL AUTOMATIC DOORS
UTS Group specializes in installing automatic doors in the Greater Toronto Area (GTA), Canada. Our focus is to provide the dependable services to our customers that we try to prove every day. We have skilled and experienced technicians to perform the installation services. Even that, our technicians will handhold you throughout the entire purchase cycle.
We have cutting-edge design solutions for your home including sliding room dividers, closet doors and single swing doors. We can customize the design with your specific choice of finishes and glass types along with your security needs. Our residential automatic doors are extremely durable and long lasting.
Which Residential Automatic Door Caters Your Needs?
Residential automatic doors are available in different designs and colours to meet your specific needs. Before choosing an option, let's find out the types of residential automatic doors.
Residential Automatic Sliding Doors
Residential automatic sliding doors are mainly used for two way or directional doors. Residential automatic sliding doors can be single sliding and balanced sliding doors. We install residential automatic sliding door openers along with residential automatic sliding doors to make the access more convenient. A residential automatic sliding door opener provides proper security and safety to your home.
Residential automatic sliding doors are also durable and strong and also provide the barrier-free access to your loved ones. Automatic door openers provide the certain facilities like sensor system, remote control and push-button systems. Moreover, they enhance the aesthetic view of your house. They also affect the resale value of your house.
Features of Automatic Sliding Doors
Easy to  install, without change existing door structure
Compact size, nice appearance and modern design
Openers can be installed with the sensor, remote control and push button
Door mode can be switched arbitrarily
Quiet operation
Strong and durable
Provide hassle free access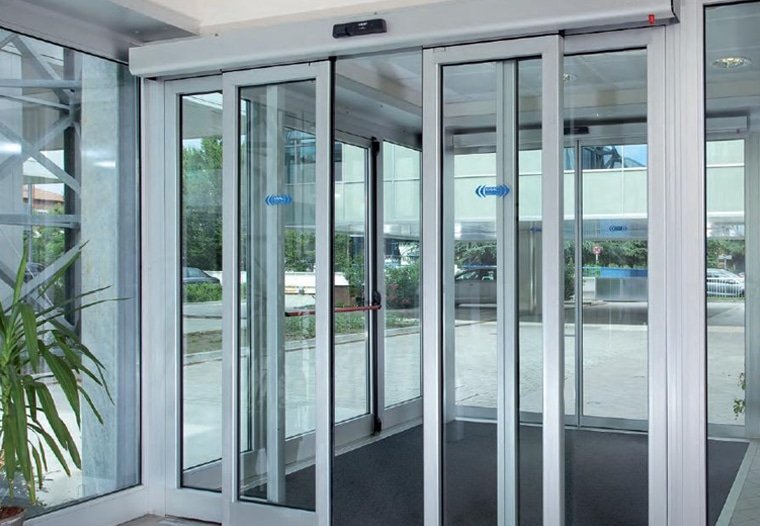 Residential Automatic Single Swing Doors
Residential automatic single swing doors are usually directional. Single swing automatic doors can be used for narrow passage, either in or out. You can get the residential automatic swing door openers installed along with residential automatic single swing doors.
These residential automatic swing door openers can be installed as overhead or mounted on the surface to push and pull usage. Door openers also offer sensor system, remote control and push button system. A residential automatic swing door opener provides suitable activation and safety system.
Features of Residential Automatic Single Swing Doors
Best suited for the push to open operation
Easily open in automatic and manual modes
Strong and durable
Quiet operation
Safe and secure operation
Modern design and appearance
Provide barrier-free access
Work well with Canada's unique weather conditions
Residential Automatic Handicap Doors
Residential automatic handicap doors are to provide the accessibility to your dear ones in every corner of your house. As they need someone around everytime to enter or exit, Residential automatic handicap doors provide them full independence to move into the house. We offer residential automatic handicap doors and automatic handicap washroom doors.
While sitting on a chair, it may be very difficult for your loved ones to open the doors themselves. Residential automatic handicap doors remove this problem and provide hassle-free accessibility. We also install residential automatic handicap door openers to meet their certain requirements.
Features of Residential Automatic Handicap Doors
Provide hassle-free access
Work quietly
Durable and dependable
Comply with safety standards
Work well with unique weather conditions
Safety sensors, remote control and push button handicap doors