Apartment Handicap Doors Installation And Repair Services in Ontario
UTS group offers apartment handicap doors installation and repair services in the Greater Toronto Area (GTA), Canada. Our goal is to make Canada more accessible for the people with disability. For that, we strive hard to prove it every day. We have skilled, dedicated and knowledgeable technicians to perform the installation and the repair services. Moreover, our team can also help you to choose the suitable apartment handicap doors.
Apartment handicap doors provide the ease and comfort to the disabled which they deserve the most. As the traditional housing do not fulfil the specific needs of the people with disability, people can transform their regular apartment into condos handicap doors.
We are expert in modifying an apartment into condo automatic doors for the people who have the limited mobility. We design the automatic handicap doors keeping their convenience in the mind. Apartment handicap accessible doors provide. We provide apartment front doors and apartment handicap washroom doors. Our apartment handicap doors are durable and long lasting.
Which Apartment Handicap Doors Are Suitable For Your Apartment?
Handicap swing doors make the enter or exit convenient and hassle-free for the people with disability. Handicap swing doors can be single swing or double swing door.
Handicap swing door openers are ideal for the disabled as they need more time to enter the building, swing door openers take some time to close.
Handicap sliding doors provide the comfort and ease to the disabled. They are available in single sliding, double sliding or balanced sliding doors.
Handicap sliding door operators are installed along with handicap sliding doors. Handicap sliding door operators open the door, wait and close it automatically.
Handicap washroom doors :
Handicap washroom doors are designed to provide the accessibility for washrooms. They are easy to operate.
Push button openers are installed with apartment handicap washroom doors. People with the disability just need to press a button to enter the washroom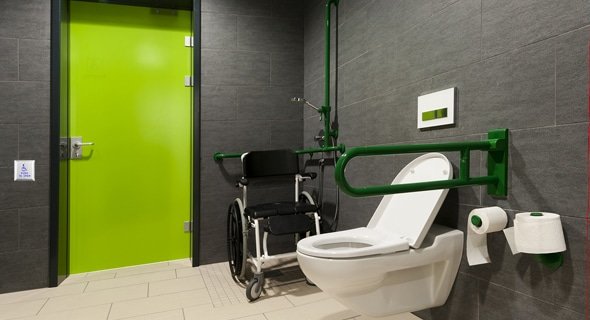 Call Us Now +1 888-205-4036 - your partner 24/7
The mission of UTS Group is to provide one stop solution for all your advanced security needs. From installation, maintenance and repairs, count on the integrated security service for the best control of commercial or residential access.
The video features the products & services that UTS Group offers
UTS Group is the leading Canadian provider of advanced intelligent security systems serving Ontario. We have over 15 years of experience specializing in the selling, installing and servicing of Access Control Systems, Locksmith Services, Intercom, Systems Security Cameras and Automatic Door Systems. Not just this, we integrate all our services together in your premise. We offer our clients an effective solution designed to meet their unique needs and varying needs. Our emergency services are available 24X7 Your safety and security is our mission.