Attractive, versatile and completely secure, the one-way and two-way access control automatic revolving doors offer fully automated entrance control for interior and exterior use. Incorporating all of the principle advantages of revolving door systems — such as barrier and draft-free access, noise reduction and energy efficiency — the packages provide a level of control that conventional doors simply cannot match. Revolving doors are the ideal solution for energy efficiency and convenience. Our automatic and security revolving doors feature superior design, convenience, and aesthetics for any entrance need.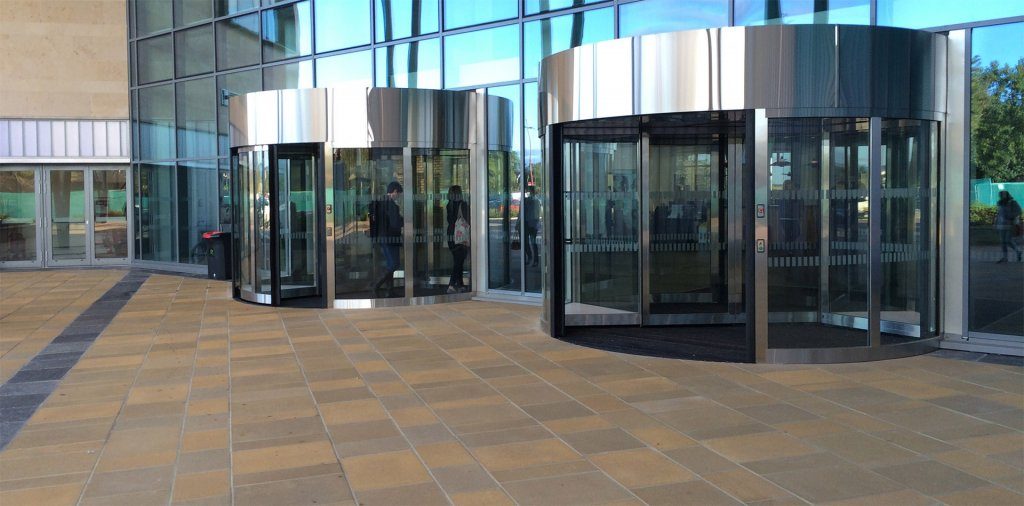 Alongside sliding doors, revolving doors are one of the most popular options building owners select for their entry. They are fancy, edgy and allow smooth inflow and outflow of people visiting your premises. The world's first revolving door was installed in a restaurant in New York's Times Square in 1898 and continued to become a rage in no time. Since then these doors have seen much technological advancement which makes them much sought after today in most commercial structures.
What makes Revolving Doors a great Choice?
Revolving or rotating doors are ideal for buildings which see a heavy movement of people walking in and out of its premises. It allows free flow of people to move in and out of the facility such as malls, banks, supermarkets and similar commercial or retail spaces.
Revolving doors generally comprise of 3 or 4 panels which are also known as wings or leaves. These panels are attached to a central vertical shaft around which they rotate. These doors are also a great asset to business houses as they are energy efficient and reduce the cost of your monthly or annual utilities.
These doors are designed to keep hot and cold temperatures moderated within the structure helping you cut back on monthly electricity bills. Revolving doors limit the amount of air that escapes as the wings rotate through the cylinder. In this way, drafts are reduced and heating and cooling costs are minimized. When the doors spin, they inhibit outside air from coming inside thereby reducing the need to crank up the air conditioners in summers and thermostats in winters.
These automatic revolving doors are also great sound protectors as firstly one escapes the loud bangs and creaks that hinged doors otherwise often make. They can prevent street noises such as horns, dogs barking, music from neighbouring establishments, etc.
Rotating doors are mostly always made of glass panels that add a sense of transparency and creates a welcoming environment for new visitors to your establishment.
Our highly efficient team of door experts work dedicatedly to develop the best door installation solutions to cater to your needs and requirements. Our work ethics drive us to offer you the best of services in a professional manner to build long-term associations with your organization.